Home
»
2015
»
April
»
10
» Hatrix (Mushroomhead's Nothing) Hates Cancer
---
8:35 AM
Hatrix (Mushroomhead's Nothing) Hates Cancer
For anyone that may be unaware, Jeff "Nothing" Hatrix' wife Stacy has recently been diagnosed with Stage Three Cancer.
Thankfully, she is receiving treatment and is fighting the good fight.

Given the fact that Jeff is technically "self employed", the family is bearing a great burden financially via their normal bills, but medical bills in the United States are absolutely ridiculous!!

Friends have begun a GoFundMe page to try to help and offset some of the burden and also lost wages as Jeff and the band (Mushroomhead for anyone that doesn't know) will miss numerous dates on the band's 2015 Tour as Jeff is a husband before he is a musician.

I know that there will be some out there that will claim that Jeff is a superstar in the industry and that they do not need financial assistance from anyone. I can tell you first hand that any statement such as that is utter and complete bullshit. Are Mushroomhead famous? Yes. Are they millionaires? They possibly could be but the odds are genuinely against it.

Considering the contracts bands are given these days, the cost of touring, paying management, promoters, lighting, rigging and everything else that goes along with a tour, these guys don't make as much money as one would really expect.

So, with that being said, if you want and can contribute anything, please do. Otherwise, if you're the praying type, just send up a prayer to whoever and whatever you believe in for Stacy to beat this thing. Cancer is not prejudicial in who it attacks from any walk of life. Whether you're poor and struggling or rich and well off. Stacy and Jeff fall in somewhere in between.

Stacy is only 29 years old. She's got a heart of gold and always helps others whenever she has the chance. Now it's our time to give a little help her way.
This is Stacy after her first 2 days of Chemo treatment. Always trying to bring a smile to others. Let's make her smile.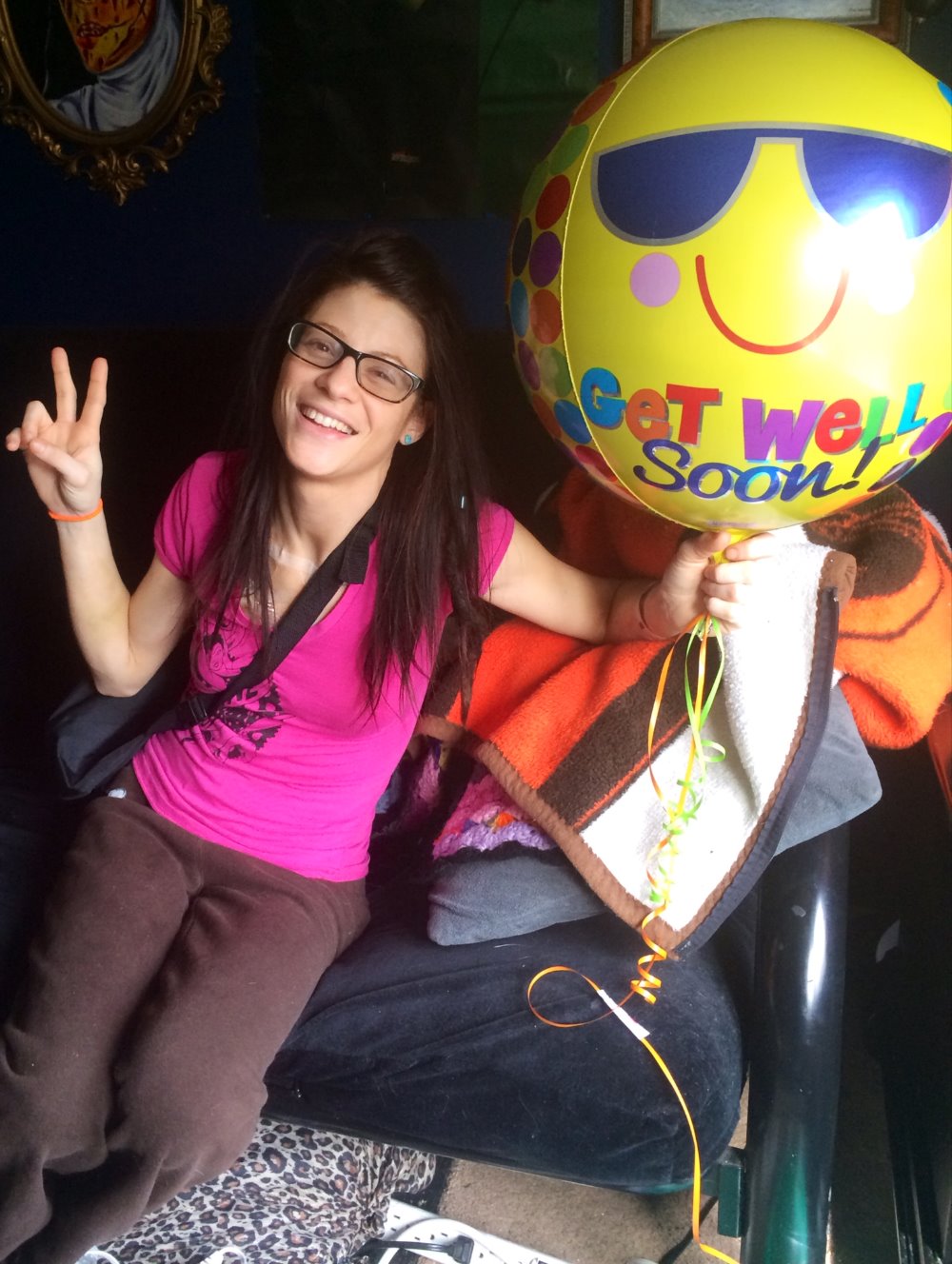 Views:
5396
|
|